UPDATES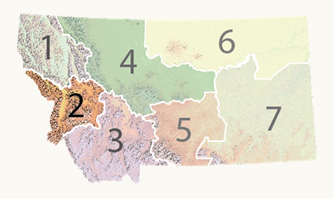 April 29, 2016

BLACK BEAR

Region-wide: Residents have been reporting black bear activity all over the region. It is time to make sure your attractants are stored in a bear-resistant manner and bird feeders are brought inside.
Rattlesnake: Recreationists in the Rattlesnake have seen a female black bear with cub. We always recommend carrying bear spray when recreating in bear country. There have also been at least two different black bears active in the mid to lower Rattlesnake.
GRIZZLY BEAR

Blackfoot Valley: A calf was killed by a grizzly bear in the Blackfoot valley. A trap was set to capture this bear but the bear has moved on.
MOUNTAIN LION
Big Flat: A mountain lion was seen near a residence. FWP is monitoring this situation.
Miller Creek: A bobcat with kittens have been seen by residents. It appears this den is not in such a great area. FWP is monitoring in case they have to relocate this female and her kittens to a safer area.
---
April 26, 2016
BLACK BEAR

Grant Creek & Rattlesnake: A black bear was seen in the Rattlesnake tearing down bird feeders and another black bear was seen getting into bird feeders in the Grant Creek area. Please bring in all bird feeders. Bears will key into this as a source of food and will actively seek them out. Help us keep bears wild by securing your attractants. This makes a safer environment for both people and bears.
---
April 7, 2016
MOUNTAIN LION
Hamilton:
A mountain lion killed multiple sheep. This situation is being investigated.
BLACK and GRIZZLY BEARS
Region-wide: Montana Fish, Wildlife and Parks (FWP) Region 2 continues to field reports of black bear and grizzly bear activity. Please contain all attractants and carry bear spray when out in bear country. Region 2 Bear Management has also started releasing black bear cubs that were orphaned and sent to the rehabilitation center in Helena last year back into the wild . They have released six of these cubs so far.
---
April 5, 2016
Region-wide: There have been reports of bear activity region-wide. It is now time to make sure all bear attractants are secured. Please bring in bird feeders and store garbage in a bear-resistant manner until the morning of pickup. Chicken coops can be effectively secured with a bear-resistant electric fence. Also, carry bear spray when recreating or working in bear country. It can be easy when there is still snow on the ground to forget it is spring; however, bears are up so please be bear aware!
BLACK BEAR

Rattlesnake: It is official, a black bear was seen on a remote wildlife camera in an Upper Rattlesnake neighborhood. Please contain all attractants in a bear-resistant manner.
Huson: Residents have continued to see a black bear active in the area.
GRIZZLY BEAR

Blackfoot and Clearwater Valleys: Residents have reported grizzly bear sightings, tracks and scat throughout the Blackfoot and Clearwater valleys. Please contain all attractants and carry bear spray when recreating or working in bear country.