UPDATES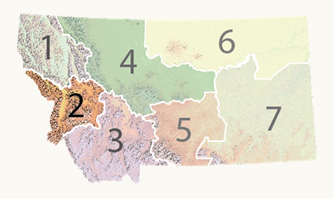 August 17, 2018
Region-wide
The Missoula area has had a good native berry crop this year with bountiful chokecherry and hawthorn now ripe and currently conflicts are low. However, the drought coupled with warm temperatures could result in the berries dropping early. Late summer and fall is the time of year with the highest human-bear conflicts. It is important that all attractants (garbage, bird feeders, pet food, etc.) are secure from bears. Bear-resistant electric fencing can be effective at keeping bears from getting into chicken coops and livestock.
BLACK BEAR
Double Arrow/Seeley Lake: A black bear was seen moving through the area. Please secure all attractants.
GRIZZLY BEAR
Blackfoot River down to Ninemile Prairie area:  Multiple people living and recreating, including floaters and those fishing, in the area have reported seeing grizzly bears feeding on chokecherries along the river. When recreating in bear country always carry bear spray and know how to use it.
MOUNTAIN LION
Region-wide: There continue to be multiple reports of mountain lions near homes and in the riparian corridors. This is not unusual this time of year. Mountain lions are following the deer as they move into the irrigated and wet areas.
Rattlesnake:  There have been reports of mountain lion activity in the recreation area. Please be aware of your surroundings when recreating in the Rattlesnake.
Orchard Homes:  A mountain lion was seen near homes. It is not unusual to have mountain lions move through this area.
Seeley Lake:  There have been reports of people seeing mountain lions near residences.
Lolo Creek: FWP responded to a report of a mountain lion in a yard in the Lolo Creek area. This animal turned out to be a housecat.
---
August 6, 2018
Region-wide: There is heavy chokecherry along the riparian corridors and hawthorn is ripening. There are many bears utilizing this resource. In addition, apples are ripening across the valley. Bears will key into these domestic fruits. If you need help picking fruit the Great Bear Foundation has started their gleaning program. There are also other options available including the Facebook group Missoula Valley Fruit Exchange where you can post if you would like fruit or if you need to get rid of fruit.  Please pick all fruit as soon as it ripens and do not let it fall and gather on the ground.
BLACK BEARS
Upper Clark Fork: There have been multiple reports of black bears near chokecherries in riparian areas. A bear was seen near a bee yard but was likely nearby for the chokecherry. FWP is monitoring this activity.
St. Regis/Superior: There have been multiple reports of black bears near chokecherries in riparian areas and near homes that have ripe berries on the property.
Lolo: Black bears continue to get into unsecured attractants such as garbage and bird feeders. Please contain all attractants in a bear-resistant manner.
Ovando area: A black bear got access to mineral lick in the bed of a truck. FWP is monitoring this activity.
GRIZZLY BEARS
Montana Fish, Wildlife and Parks Region 2 captured three grizzly bears, two males and one female, for research.
Blackfoot Clearwater drainages: Grizzly bear sightings continue near home sites. Many of these sightings include bears feeding on chokecherries and serviceberries. Bears are also continuing to use the agricultural fields. Some landowners are seeing 6-8 grizzlies in one field at a time.
MOUNTAIN LIONS
Region-wide: As things have dried up there have been a lot of sightings of mountain lions in areas where there is irrigation and riparian corridors. The mountain lions are moving where the deer are going to find food. 
South Deer Lodge: Lambs and sheep were killed by a mountain lion south of Deer Lodge. There was an electric fence at this site, but it is being modified for mountain lions. Montana Wildlife Services is managing this incident.
East end of Potomac: FWP is working with the community on electric fencing for multiple families with small livestock that have had chronic predation in the past. If you live in this area and are interested in electric fencing, please contact us.