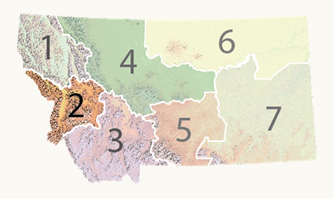 UPDATES: August 30, 2021
Region-wide: There have been more than 10 black bears killed on roads in the region. This is largely due to the berry loads near roads and railroads. It also looks like this year will be a bumper crop for apples. Please pick apples and other domestic fruit. Unfortunately, as bears feed on chokecherry and hawthorn in the area they are also finding uncontained garbage. There have been numerous calls region-wide regarding bears getting into garbage. Please contain all attractants. FWP has also been busy responding to reports of mountain lion activity and has hazed several lions away from residential areas. While things have quieted down since the recent rain, deer and elk are still congregating near heavily watered areas. Multiple reports of mountain lions investigated by FWP turned out to be fox or domestic cats.
BLACK BEAR
Wye: A black bear that had been severely injured after being struck by a vehicle was euthanized.
Expressway area: FWP relocated a black bear that was in a tree in a subdivision. This bear was likely trying to move from the river to the foothills.
Miller Creek area: FWP relocated a black bear that got into a chicken coop.
Seeley Lake: A black bear that had been repeatedly getting into campers, garages, and sheds was removed after breaking into another garage.
Round Up/Nine Mile Prairie area: A bear was trapped and relocated after getting into multiple attractants.
Potomac: There have been multiple reports of bears getting into garbage. There is also a possible grizzly bear that has gotten into garbage. FWP is monitoring this activity.
GRIZZLY BEAR
Upper Blackfoot: Grizzly bears have moved into the valley floor for excellent hawthorn and chokecherry and are also feeding on agricultural crops like alfalfa. Multiple family groups have been seen concentrated around agricultural fields
Seeley: A female grizzly with a cub tried to get into a dumpster but did not access it. FWP Is working with community members on repairing and maintaining existing dumpster and containers.
Ovando: A grizzly got into a barn where seed was stored. FWP set traps but this bear moved on.
Helmville: Wildlife Services is monitoring recent confirmed grizzly bear calf depredations.
Lincoln: A moose was found dead along the river and bears had been feeding on it. FWP posted signs. The carcass has been consumed and signs have been pulled.
Avon: There have been reports of a grizzly bear getting into uncontained dog food.
Rattlesnake Recreation Area: FWP continues to field reports of a grizzly bear seen in the recreation area but has not been able to verify these reports. If anyone has a picture of a good grizzly bear track taken in the recreation area please contact FWP.
---
August 6, 2021
BLACK BEAR
Region-wide: There have been multiple reports of black bear activity in the lower elevations region-wide. Black bears have been seen feeding on berries along the Kim Williams, Bitterroot Trail, and the Evaro Hill area. Bears are feeding on lower elevations serviceberry which is starting to wane. Chokecherry and hawthorn seem to be ripening early and bears are feeding on these as well. It is possible that these natural food resources will dry up early due to the high temperatures and drought. Some bears feeding on berries have been near homes and have gotten into unsecured garbage and bird feeders. If the berries do dry up early, the bears will be looking for alternative food resources. If things like garbage, bird seed and pet food are left out and available to bears they will find it. Please secure all attractants. Black bears and mountain lions have been hit by cars and killed as they move across low elevations in search of food. Please be mindful of wildlife crossing the roads, particularly at dawn and dusk.
Upper Grant Creek: There is considerable black bear activity in the Upper Grant Creek area. Many of these bears are feeding on the available berries. It is very important to secure attractants, bring in bird feeders, and contain garbage in a bear-resistant manner until the morning of pickup. Keep garage doors closed even if you are home. FWP continues to monitor for any potential wildlife feeding in the area. Please do not feed wildlife.
Seeley Lake: A black bear has learned to break into and enter vacant trailers. This bear has been into about 10 different vacant trailers, largely at night. FWP is trapping for this bear and this bear will be removed when captured.
GRIZZLY BEAR
Clearwater and Blackfoot drainages: There have been multiple reports of grizzly bear activity throughout the Clearwater and Blackfoot drainages. In the Ovando and Helmville areas there are multiple bears including some family groups that have been seen in agricultural fields. A grizzly bear got a bird feeder in the Clearwater Junction Area and also got into an open barn where grain was stored. A grizzly bear was seen exploring a homesite in the Seeley Lake area. He also tried to get into a shed where garbage was but was unsuccessful. FWP is monitoring.
MOUNTAIN LION
Region-wide: Mountain lions have been seen in lower elevations region-wide. Drought conditions resulting in heavy watering in agricultural areas and around homes has resulted in congregations of deer and elk in these areas. Mountain lions will follow their prey source into these areas.
Milltown: A mountain lion did kill a housecat. FWP removed this older female mountain lion.