UPDATES: December 3, 2019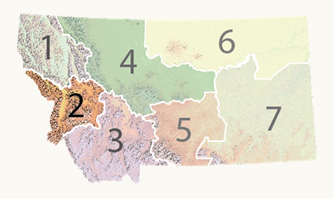 Region-wide: Most bears have headed to their dens. However, there are still a few out and about. As deer and elk move into winter feeding grounds and valleys in search of food, mountain lions will follow their prey. In the winter we usually get more mountain lion reports. Also, remember that it is against the law to feed deer and elk.
BLACK BEAR
Clinton: A black bear was seen on a back porch over Thanksgiving. The bear left and is likely heading towards its den.
GRIZZLY BEAR
Blackfoot: Hunters continue to see grizzly tracks. Two grizzly bears were also seen near a hunter's truck. They moved on without incident.
MOUNTAIN LION
Swan Divide: A mountain lion killed some domestic fowl. Another mountain lion was removed after killing two dogs just north of the Divide.
Bitterroot: A mountain lion was seen near miniature cows. The family is looking into installing electric fence. Another mountain lion was seen south of Darby and possibly got into a chicken coop.