UPDATES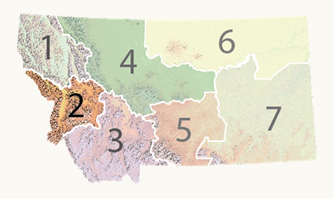 February 17, 2017
MOUNTAIN LION
Update from Montana Fish, Wildlife & Parks (MFWP): From January 1st through the February 8th MFWP, 911 and the Missoula Bears website received multiple phone calls and reports of lion activity in the upper portions of the Rattlesnake residential district between Pineview Park and the Rattlesnake Trailhead. The mountain lions were successfully hunting deer in and around riparian areas behind home sites and along the City's park trail system. MFWP put up signs in the area, monitored the lion activity and informed the community. Recently, however, the lions were observed again around the Rattlesnake Elementary and the Pineview Park area. On the evening of February 8th a lion approached adults, children and dogs. Earlier in the week, it was discovered that lions were walking on patios and porches along Old Pond Road and Duncan Drive. Due to this extreme, habituated behavior and the incident that occurred Wednesday night, one lion was lethally removed. Since that time, the second lion continues to hunt deer in the residential area. On February 14th the lion was observed midday near Rattlesnake Elementary. Upon investigation, a fresh lion-killed deer was discovered in a backyard 300 yards from the school. It is MFWP's hope that the remaining lion will disperse from the area. The department will continue to monitor the situation.
MFWP is continuing to investigate reports of people feeding wildlife in the area. Multiple warning tickets and several citations have been issued. After a first warning, individuals continuing to feed wildlife will be cited under both City and the State wildlife feeding laws. The department is also investigating random/illegal feeding acts that are occurring in the Rattlesnake Drainage. On the evening of Feb 14th, hay and corn piles were deposited along the public right-of-way at Charis Lane, Greenbriar Drive and Rattlesnake Court. If you have any information on this feeding activity or wish to report additional feeding activity please file a report on this website (missoulabears.org), call TIP-MONT or call the main MFWP office at 406-542-5500. Due to the urban wildlife phenomena and the abundance of feed (grab apples, green grass, gardens, crops) around residential and agricultural areas throughout the year, there are large numbers of deer around home sites. Any evidence of providing artificial feed or salt to big game should be reported. Again, it is illegal in Montana to provide supplemental feed or salt to big game.
Again, due to snow conditions, this winter deer and elk are using the important low elevation winter ranges. Deer and elk are concentrated in certain areas along with the predators that hunt them. Many of these important big game wintering grounds have been subdivided and are now considered to be within the urban-wildlands interface. This winter, Montana residents should expect to see lions and observe lion activity wherever there are concentrations of elk and deer.  The Missoula area has a robust mountain lion population that hunts for deer in and around the private, state and federal lands surrounding the valley and along the river and stream corridors. Most mountain lions hunting along the urban fringe do not approach people, do not hunt during the day where there is human activity and do not enter buildings and walk on porches. When individual lions begin exhibiting habituated behavior or any behaviors considered to be a public safety concern, there is zero tolerance. Lions not exhibiting extreme behaviors will not be managed. Residents living along the urban-wildlands interface should expect to see and be tolerant of lion activity. Please contact MFWP whenever there are safety concerns.
Go to our gallery to view photos related to this post.
---
February 14, 2017
Region-wide: Likely due to the recent mountain lion activity, Montana Fish, Wildlife & Parks (FWP) has seen an increase in reports of people feeding deer and elk. FWP is investigating reports that come in.
BEAR
Lincoln: A bear of unknown species was reported out of its den in the Lincoln area. Bears will occasionally come out of their dens in the winter but usually return. FWP is monitoring.
MOUNTAIN LION
Upper Rattlesnake: A mountain lion was seen during the day in the Upper Rattlesnake. FWP is monitoring the area.
BOBCAT
University Area: FWP received a report of a bobcat sighted on the hill near the University. Bobcats are fairly common in the areas around Missoula.
---
February 7, 2017
MOUNTAIN LION
Region-wide: Montana Fish, Wildlife & Parks (FWP) continues to field reports of mountain lion activity in the valleys and surrounding areas. FWP is actively investigating reports of residents intentionally feeding deer and elk and is issuing tickets when appropriate. Missoula Animal Control is also looking into reports of intentional wildlife feeding. It is against the law to intentionally feed game animals in Montana.
Please visit FWP's Living with Mountain Lions website for more information.
Upper Rattlesnake: Residents continue to see signs of mountain lion activity in the Upper Rattlesnake. There are likely two lions in the area. FWP is monitoring activity and has posted signs on trailheads, alerting residents to the activity.
Turah: There have been reports of two mountain lions feeding on an elk carcass in the area. FWP is monitoring the activity.
---
February 1, 2017

MOUNTAIN LION
FWP continues to field multiple reports of people seeing mountain lions or tracks of mountain lions near residential areas. This is not unusual this time of year. Remember it is against the law to feed deer and elk and doing so can inadvertently bring mountain lions closer to homes because they are following their natural prey base.
Marshall Canyon: Mountain lion tracks were seen near a residence. No conflicts have been reported.
Rattlesnake: Tracks have been seen in the area. A deer cache was found in the Upper Rattlesnake. FWP was alerted but no conflicts have been reported.