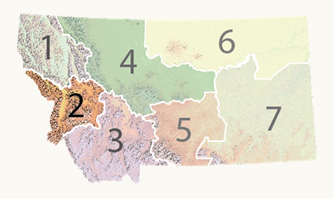 UPDATES
February 14, 2019
MOUNTAIN LION
Region-wide: Mountain lions are down in the lower elevations where wintering deer and elk are. FWP has fielded multiple reports of mountain lions across the region including in the Rattlesnake and North Hills. Please report mountain lion activity to FWP.
BLACK BEAR
Lower Miller Creek: A black bear was seen in the Lower Miller Creek area. This bear was likely denned in one of the canyons and was disturbed and will hopefully move on to a new den. FWP is monitoring.
February 1, 2019
MOUNTAIN LION
Rattlesnake: There are two subadult mountain lions in the area where the dog was killed last weekend resulting in the removal of two mountain lions, a female and a subadult. These lions are approaching houses and looking into windows. FWP is investigating and if possible will aversive condition them to push them further in the Rattlesnake, but may have to remove them if they continue this behavior.
There is a report of a mountain lion killed in a different area of the Rattlesnake and FWP is monitoring the situation.
Moose Can Gully: FWP is investigating mountain lions in the area.
Clinton area: Wildlife Services had to remove a mountain lion family group that killed a goat.
Hunting season: Mountain lion season in Region 2 is ongoing. Much of the Missoula Area is in the special mountain lion area. For more information on mountain lion hunting contact FWP.