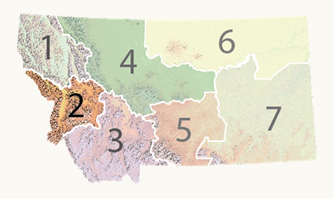 UPDATES: February 28, 2022
BLACK BEAR
Rattlesnake: FWP is monitoring reports of blacks bears that possibly emerged from their dens during the warm spell. There have been no reports this week of black bear activity. Bears will occasionally emerge from their dens in the winter for a brief period before returning.
MOUNTAIN LION
Across Region 2: There have been multiple reports of mountain lion tracks in the lower elevations. FWP is monitoring three different family groups of mountain lions in the Marshall, Rattlesnake, and Bonner areas. At this time, no conflicts have been reported. Lions are down in the lower elevations following their natural prey.
---
February 2, 2022
MOUNTAIN LION
Region-wide: This is the time of year that mountain lions are down in the river bottoms and creek bottoms following deer. FWP has received reports of mountain lion activity in Grant creek, Rattlesnake, and Marshall Canyon areas. This includes both family groups and lone mountain lions. This is not unusual this time of year. Please report mountain lion activity to Montana Fish, Wildlife and Parks.
Rattlesnake: FWP has received multiple reports of a mountain lion activity in the Rattlesnake drainage including reports of tracks and cached whitetail deer kills. This includes both lone mountain lions and family group activity. FWP is monitoring this activity and has removed cached whitetail deer kills.
Visit the US Forest Service's mountain lion website for more information.