UPDATES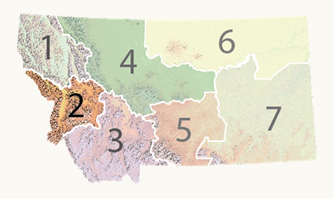 January 27, 2017
MOUNTAIN LION
Grant Creek: From January 25th through the 27th Montana Fish, Wildlife & Parks (MFWP) and 911 received multiple phone calls and reports of a family group of mountain lions in Grant Creek. There were multiple incidents where the lions approached adults and children and came within 10 to 20 feet of several individuals. The lions were entering sheds, car ports and climbing under porches, vehicles, boats and walking between houses and looking in windows. Prior to discovering this extreme behavior MFWP hazed the lions with cracker shells in hopes that they would disperse from the area. On the evening of the 26th the family group came down valley into a densely populated residential area and began hunting for deer in and around home sites. Members of the public were approached by the lions. Homeowners attempted to haze the lions but the cats remained in the area through the night. On the morning of the 27th MFWP located two of the lions at a residence feeding on a deer. Due the extreme behavior exhibited by the lions both of the male juveniles were lethally removed. The cached deer carcass was removed from the yard and it is MFWP hope that the remaining two lions will disperse from the area.
Due to snow conditions this winter, deer and elk are using important low elevation winter ranges, with concentrations in certain areas along with the predators that hunt them. Many important big game wintering grounds have been subdivided and are now considered to be within the urban wild lands interface. This winter Montana residents should expect to see lions and observe lion activity wherever there are concentrations of elk and deer. The Missoula area has a robust mountain lion population that hunts for deer in and around the private, state and federal lands surrounding the valley and along the river and stream corridors. Most mountain lions hunting along the urban fringe do not approach people and do not enter building and walk on porches. When individual lions begin exhibiting any behaviors considered to be a public safety concern please contact MFWP. During all times of the year urban areas supply an abundance of feed (crab apples, green grass, gardens, crops) so large numbers of deer are common in residential areas. However, it is against the law in Montana to provide supplemental feed or salt to big game. Any evidence of providing artificial feed or salt to big game should be reported immediately to MFWP.
---
January 27, 2017
MOUNTAIN LION
Upper Grant Creek: A large, lone mountain lion was seen the morning of January 25th in the Keegan Gulch area.  Later that evening, three mountain lions were seen close to the residence. Montana Fish, Wildlife & Parks was alerted. Today four lions were reported near someone's residence in the same, general area. Montana Fish, Wildlife & Parks responded and hazed three juvenile mountain lions from the area. Montana Fish, Wildlife & Parks did not see the adult female but did see tracks. This is a remote area with a large amount of deer and it is likely that the family group has a deer kill in the vicinity. Montana Fish, Wildlife & Parks is monitoring the situation.
---
January 25, 2017
MOUNTAIN LION
Montana Fish, Wildlife & Parks has received reports of mountain lion tracks and sightings in the Brookside area of the Rattlesnake. FWP continues to monitor the situation. It is not uncommon for mountain lions to move through parts of the Missoula Valley, particularly in areas along the edge of the valley and the neighborhoods that are adjacent to wildlands such as the Rattlesnake, Grant Creek, and Pattee Canyon. In the winter, mountain lions are following deer that are down in the valley. Please do not feed or salt for deer or elk as this may draw lions close to your residence. If anyone sees tracks or lions contact FWP at 542-5500.
---
January 17, 2017
MOUNTAIN LION
Grant Creek: Montana Fish, Wildlife & Parks removed a female mountain lion with three juveniles from the Grant Creek area this weekend. This family group had killed one dog. This type of conflict is not common as the majority of mountain lions are preying on deer and elk. However, when mountain lions start preying on dogs and cats in a residential area FWP must act quickly for safety reasons.
---
January 11, 2017
MOUNTAIN LION
Seeley Lake: FWP has received multiple reports of a family group of mountain lions in the Double Arrow area. No conflicts have been reported but residents have seen the family group as well as tracks. Mountain lion activity can be expected where there is deer and elk activity. Please do not provide feed or salt for deer and elk.
---
January 6, 2017

MOUNTAIN LION
Region-wide: Residents continue to report mountain lion tracks in the valleys. This is not unusual as mountain lions follow the deer and elk. It is against the law to feed deer and elk in Montana. Doing so can also draw predators, such as mountain lions, closer to your residence. FWP has fielded a couple of reports of abandoned mountain lion kittens. Mountain lions typically give birth in early spring but can breed other times of the year. Early kittens, such as the ones being reported, can have a difficult time surviving during winter. FWP euthanized a kitten that was found to be blind and likely abandoned by its mother.
Seeley Lake: A mountain lion was seen walking through the Double Arrow. No conflicts were reported. Please do not feed deer or elk as this can lure predators, such as mountain lions, closer to your residence.