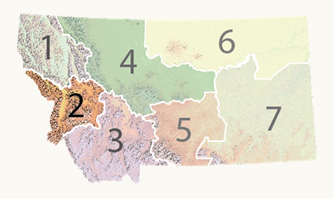 UPDATES
January 9, 2019
MOUNTAIN LION

Region-wide: It is not unusual for Montana Fish, Wildlife and Parks to get an increased number of mountain lion and mountain lion tracks sighting reports at this time of year. Snow and colder temperatures moves game, like deer and elk, to their winter ranges and mountain lions naturally follow their prey. Remember, that in Montana it is against the law to feed deer and elk.
Lower Blackfoot (Twin Creek): A family group of lions was seen near a residence. They are hunting deer that are in the area eating livestock feed. FWP is monitoring and will haze if necessary.
Upper Rattlesnake: FWP is investigating reports of mountain lion activity. This includes a report of a family group of mountain lions near the PEAS farm last week.
Florence: A family group of mountain lions was seen near a bus stop. FWP is monitoring.
East Missoula: FWP removed a deer killed by a mountain lion near a home.