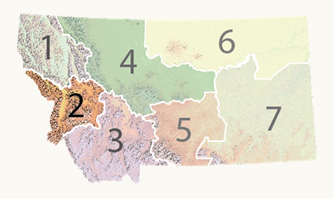 UPDATES: July 21, 2021
BLACK BEAR
Rattlesnake: FWP removed a black bear in the middle Rattlesnake that entered a home through an open door, had entered multiple garages, and approached people during the day. Many of the garages that he entered were open. FWP did attempt to trap this bear but they were unable to do so. Please bring in bird feeders and close garage doors even if you are at home. It is common for people to store garbage, pet food, and other attractants in their garage. Bears smell those potential food sources and may enter a garage, particularly if the door is already open. There are still multiple black bears active in the Rattlesnake so please secure attractants.
Grant Creek: A non-target black bear was captured by FWP and relocated over the weekend.
---
July 15, 2021
BLACK BEAR
Rattlesnake: FWP is seeking reports and tips on the location of a large, brown-phased male black bear with an ear tag and a white spot on his chest (see photo below). This bear is entering garages and seeking garbage and bird feeders. The bear also entered a home that had its door left open. Please report sightings by filling out a report form or send a private message through our Missoula Bears Facebook page.
Missoula Area: There are excellent serviceberry crops in the Missoula area right now. As a result, bears are coming to the valley floors from all directions. Wherever there are serviceberries, there are bears. This includes Missoula to Lolo, along the Kim Williams trail, the entire Rattlesnake corridor, the Grant Creek corridor, and the Bonner/Milltown area. And bears are finding garbage and bird feeders in these areas. Contain all attractants in a bear-resistant manner, bring in all bird feeders, and do not put garbage out until the morning of pickup.
Seeley Lake area: There are traps set for two black bears showing extreme food-conditioned behavior and most likely will be euthanized when captured. One of the black bears has entered a house twice in Seeley and the other has been working the Big Larch, Lake Alva, and Lake Inez campgrounds.
---
UPDATES: July 12, 2021
BLACK BEAR
Region-wide: All areas are seeing an increase in black bear activity. FWP is receiving frequent calls from residents about bears getting into garbage. Black bears have also been seen in campgrounds and getting into coolers that are left out. Low elevation huckleberry and serviceberry is ripe along rivers and creeks. Bears are moving into these areas to feed on these natural foods but have found garbage and other attractants. Hopefully we get some rain, but until then it is possible that there will be less natural foods available as the summer progresses. This can cause bears to look for food elsewhere. It is really important to contain attractants. Bring in bird feeders. Store garbage in a bear-resistant manner. Do not put garbage out until the morning of pickup or you can remove it to a waste transfer site. If you are camping please do not leave coolers and other items that smell out and accessible to bears. For more information: http://igbconline.org/bear-safety/.
Grant Creek: A black bear entered an open garage in Grant Creek. Please keep garage doors closed even when you are home. FWP has issued a warning in regards to a possible feeding situation in Grant Creek. Please do not feed wildlife. Feeding deer and elk and other animals can also bring in animals you might not expect and can create a dangerous situation for both the wildlife and people.
Hamilton: A black bear got stuck in a garage that it entered in an attempt to get garbage and the door shut behind it. The bear left through a window.
Seeley Lake: A black bear reportedly entered a home and nearby shed. FWP is investigating and also set a trap for a black bear in the Seeley area.
GRIZZLY BEAR
Blackfoot/Clearwater: FWP has received multiple photos of grizzly bears in the Blackfoot and Clearwater drainages. For more information on the Ovando incident, please see press releases from FWP. FWP is continuing to field reports of grizzly bear activity in and around agricultural areas where they are feeding on crops and at sites in the Upper Clearwater where there are good huckleberries and serviceberries.
Garrison Junction area: FWP has a trap set for a grizzly bear in the area that got into chickens and ducks.
MOUNTAIN LION
Region-wide: As it gets drier across the regions deer and elk are moving towards more irrigated pasture, irrigated residential areas, and riparian areas. Mountain lions will follow their prey. FWP has received multiple reports of mountain lion activity across the region, particularly in these areas near water.
North Hills: A mountain lion was seen near a home site.
Rattlesnake: FWP received a report of a female mountain lion with a kitten. No conflicts reported.