UPDATES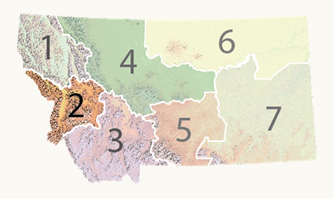 March 27, 2018
Region-wide: Bears are starting to wake up. Please bring in all bird feeders by April 1st and contain garbage in a bear-resistant manner until the morning of pickup. Electric fencing can also be an effective tool for containing attractants such as chicken coops and livestock.
BLACK BEAR
Rattlesnake: There were two reports of black bear tracks seen in the Rattlesnake Recreation Area this weekend. Please contain all attractants and carry bear spray when recreating in bear country.
---
March 16, 2018
Region-wide: It's that time of year when bears start to slowly venture out of their dens. All attractants should be secured by April 1. This includes bringing in bird feeders. Carry bear spray and know how to use it.
MOUNTAIN LION
Grant Creek: A mountain lion was seen near a residence in Upper Grant Creek.
GRIZZLY BEAR
Blackfoot and Clearwater: Montana Fish, Wildlife & Parks (MFWP) received two reports of grizzly bear tracks in the Clearwater Drainage and Blackfoot Valley.