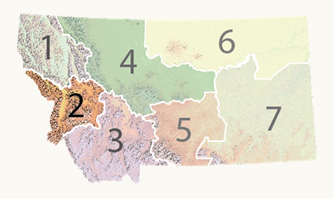 UPDATES: March 30, 2021
Region-wide: Green up is beginning and people should expect to see deer, elk, and other wildlife move to lower elevations. Now is the time to take down bird feeders and contain all attractants. Be bear aware when out in bear country. Carry bear spray and know how to use it.
BLACK BEAR
Rattlesnake: FWP received a report of a black bear active in the upper Rattlesnake area.
GRIZZLY BEAR
Placid Lake: A female grizzly bear with a subadult was seen in the Placid Lake area.
Clearwater Junction Area: A collared male grizzly emerged from his den and has headed to lower elevations.
Blackfoot: There have been reports of grizzly tracks in the area.
---
March 11, 2021
GRIZZLY BEAR
Grizzly bear tracks have now been confirmed in the Swan Valley and in the Blackfoot Valley. Now is the time to secure attractants. Be bear aware when out in bear country.
---
March 8, 2021
GRIZZLY BEAR
Region-wide: FWP has had no reports of black or grizzly bear tracks yet in Region 2; however, collared grizzly bears indicate that bears are starting to be active in and near den sites. Please start thinking about containing attractants on your property. Garbage should be contained and bird feeders taken down by April 1.
MOUNTAIN LION
Region-wide: FWP has received reports of mountain lion activity across Region 2. Green up will be occurring soon and mountain lion will follow deer and elk where they congregate. This is not unusual.
Rattlesnake: FWP has responded to two locations where mountain lion killed deer near home sites along the riparian corridor. Critter gitters were also set up at a residence where lions were using the area to travel. A critter gritter is a device that is triggered when the animal walks by. It emits a loud noise that scares away the wildlife away.
Corvallis: A young mountain lion was removed after an incident with dogs in the Corvallis area.
South Hills: There was a report of a mountain lion chasing deer in the area.