UPDATES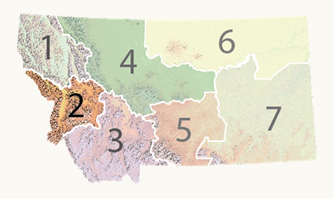 November 21, 2017
Region-wide: Bear reports have slowed significantly since the second week of November. Some bears are still active but many have moved towards den sites. People continue to see the occasional bear tracks in the snow. Continue to be attentive when out in bear country. Carry bear spray and know how to use it. Contain attractants and do not put out bird feeders until December 1st. Reports of mountain lion activity typically increases this time of year as mountain lions move to where deer and elk are and their tracks are more visible in the snow. Hunters have reported seeing mountain lion tracks. As a reminder, it is illegal to provide supplemental feed to deer or elk, bears, mountain lions or wild turkeys under Montana Code 87-6-216. Do not feed wildlife. FWP will be investigating reports of supplemental feeding.
BLACK BEAR
Rattlesnake: A black bear was still being active in the Rattlesnake as of last week. Black bear tracks were also seen in the Woods Gulch area. There have been reports of corn being placed out in piles. It is against the law to feed deer and elk in Montana. FWP is monitoring and will issue tickets to anyone caught feeding wildlife. Last year FWP investigated similar reports of hay and corn being placed out for wildlife. If you witness this occurring please contact FWP at 1-800-TIP-MONT or the Region 2 office at 406-542-5500.
Belmont Creek: FWP is investigating an incident where a female black bear and cub were shot and killed in the Belmont Creek area. If you have any information please contact 1-800-TIP-MONT.
Lower Nine Mile: Two orphan black bear cubs were getting into birdseed. FWP is monitoring this situation and there have been no reports this week. These cubs are believed to be big enough to den on their own.
GRIZZLY BEAR
Seeley Lake: A deer carcass was removed from a shed in the Seeley Lake area. That bear continued to feed on gut piles over the first two weeks of November. This bear has moved up towards his den.
Blackfoot Valley: Grizzly bears were continuing to feed on agricultural crops through the first couple weeks of November. This activity is beginning to quiet down as bears move to their dens.
MOUNTAIN LION
Ravine Creek/Upper Grant Creek: A family group of mountain lions was seen in the area. No conflicts were reported.
Miller Creek: A mountain lion killed a dog at night in the upper Miller Creek area in November. The mountain lion moved on without further incident.
O'Brien Creek: A deer was killed by a mountain lion in a backyard. The deer has been removed from the area and FWP is going to monitor the situation.