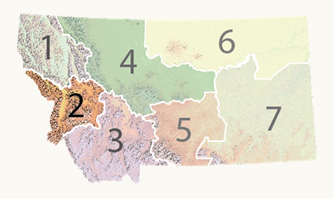 UPDATES: November 1, 2019
BLACK BEAR
Potomac: There were two depredations reported by a black bear. Black bears are also getting into unsecured garbage.
Seeley Lake: There are multiple black bears getting into unsecured garbage.
Lolo Hot Springs: FWP set a trap for a black bear that has been getting into unsecured garbage. FWP is working with the business owners to replace garbage containers with bear-resistant ones.
Lower Clark Fork: Black bears have been getting into unsecured garbage.
Grant Creek: There are a couple of black bears still getting into unsecured garbage in lower Grant Creek.
East Missoula – Easy Street: A black bear has been in the area and getting into garbage. Please keep garbage in until the morning of pick up.
Rattlesnake: There are still multiple bears active in the Rattlesnake. Reports of bears in garbage has decreased, but people are still seeing signs of bear activity.
Bonner: A black bear has been seen in the area. Please secure all attractants in a bear-resistant manner.
GRIZZLY BEAR
Seeley Lake: A grizzly bear was able to get into a bear-resistant garbage container. This container was replaced and the bear could not access the second container.
Blackfoot: Hunters have been reporting grizzly tracks. Please be bear aware when hunting in grizzly country.
Northeast of Clearwater Junction: A female grizzly bear with two cubs got into a chicken coop and a second grizzly bear was seen in the same area.
MOUNTAIN LION
Phillipsburg: There have been a multiple reports of mountain lion activity in the area. This is likely due to the deer moving in town as the cold weather settles in.