UPDATES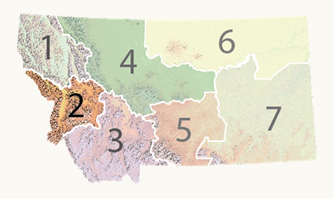 October 17, 2018
Halloween: Please remember that bears like pumpkins too! This is especially important to keep in mind in the areas with bear activity in the urban wildland interface around Missoula. Although deer are usually the main culprit for eating Halloween pumpkins, if you have pumpkins on your porch it could become a food reward for a bear. If you have bear activity in your neighborhood, please keep pumpkins indoors until Halloween and parents should trick or treat with their kids. For neighborhoods like the Rattlesnake, with kids in and out of the riparian corridors as they move between neighborhoods, be advised that multiple bears remain active in these areas.  Please carry bear spray and know how to use it.
BLACK BEAR
Gold Creek: FWP ticketed an individual for feeding wildlife in the Gold Creek area. Three bears were relocated in relation to this investigation.
Rattlesnake: Multiple bears have gotten into unsecured garbage. Numerous other bears are feeding on domestic fruit. Residents have repeatedly seen at least 3 different bears in the Greenough Park area at all times of the day.
Grant Creek/Butler Creek: Residents continue to see black bears in domestic fruit trees. There have been multiple reports of a possible grizzly bear in Grant Creek. It appears to be a black bear with unusually coloration, but FWP has cameras set to get additional pictures. Please contact FWP with grizzly bear reports.
Clinton/Turah: There have been multiple reports of black bears feeding on domestic fruit and one incident where a black bear killed chickens.
South of I-90 in the Clinton area: FWP is looking into the possibility of grizzly bear activity in the mountains between Rock Creek and Bonner.
Seeley Lake: Black bear activity continues to be higher than normal in the area as black bears continue to access unsecured garbage and other attractants. Bears have been reported in garbage at Seeley Lake Elementary despite the availability of bear-resistant storage options. FWP is monitoring the situation. Please contain all attractants in a bear-resistant manner.
Lolo: There continue to be reports of black bears feeding on domestic fruit and still finding unsecured garbage. Pick fruit and contain all attractants, including garbage, in a bear-resistant manner.
GRIZZLY BEAR
Blackfoot and Clearwater drainages: Hunters are still reporting grizzly bear activity throughout the Clearwater and Blackfoot drainages. Hunters should be bear aware, carry bear spray and know how to use it.
Blackfoot: Traps were set at three locations for grizzly bears getting into garbage and investigating residences. Traps were pulled last Friday and no bears were captured. There continues to be multiple reports of bears scavenging gut piles and feeding on caraway in the region.
Scapegoat Wilderness: Several backcountry camps had grizzly bear activity in camp. A bear tore into a tent and an outfitting camp had a bear get through the electric fence. It is suspected that the bear had received a food reward at previous camps. FWP is monitoring. Hunters should remember there are Food Storage Orders in place.