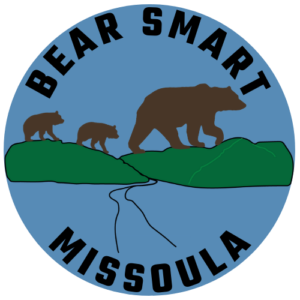 Bear Smart Missoula
The goal of Bear Smart Missoula is to address the root causes of human-bear conflicts and reduce the risk to human safety and private property, as well as the number of bears that are killed and/or relocated each year. The Missoula Bears website assists the Bear Smart Missoula effort by disseminating bear awareness information and by providing The Missoula Bear Smart Working Group with an online platform to gather data.
Community Initiatives
Bear Smart Working Group
Special Thanks
Community Initiatives
We work with local organizations, agencies, and residents to implement community initiatives that promote responsible attractant management, including  community bear awareness campaigns. We collaborate with Missoula Bears on research, data collection, and monitoring to better understand bear behavior and population dynamics in the area. Learn more about attractants. 
Bear Smart Working Group
Special Thanks